You never get a second chance at a first impression. As members of a very visual profession, photographers understand this to be true in their industry, and that's why they often go to great lengths to deliver photos (even digital versions on a USB) in some sort of stylish album or box.
We know that photographers want to present their clients with packages as lovely as the photos inside to reflect well on their work, but stylish items of this nature can get costly fast. Not to mention, there aren't many environmentally conscious products that serve this function.
So what should a sustainably-focused professional who doesn't have unlimited resources to spend on photo boxes do if they want to offer their clients an aesthetically pleasing delivery method? Easy—use one of our Linen USB and Photo Boxes!
Versatile
These boxes are perfect for presenting any kind of professional photos. With a range of color and design options, there's an ideal version for every wedding, modeling shoot, or series of product photos. Many with a spot for both photographs and USBs, the boxes provide a visually appealing home for every sort of photo item.
Not only are these boxes highly versatile, they also have a much lower price tag than one would guess by looking at them. With the most expensive of the USB and Photo Boxes only ringing in at $13, photographers can afford to purchase them consistently.
Trendy Design
With a number of fold-over designs and fastening materials, clients are sure to be wowed by the elevated look of these boxes. No matter if the intended look is whimsical, romantic, modern, or professional, there's a box that can accommodate that style. The range of colors available further broadens the appeal of the USB and Photo Boxes.
What's more, some of these boxes even allow for customization so photographers have the option of incorporating clients' names or any other small amount of information like a wedding date. This is an especially useful function for photographers hired to take product photos for a business as they can incorporate that business' logo on the box.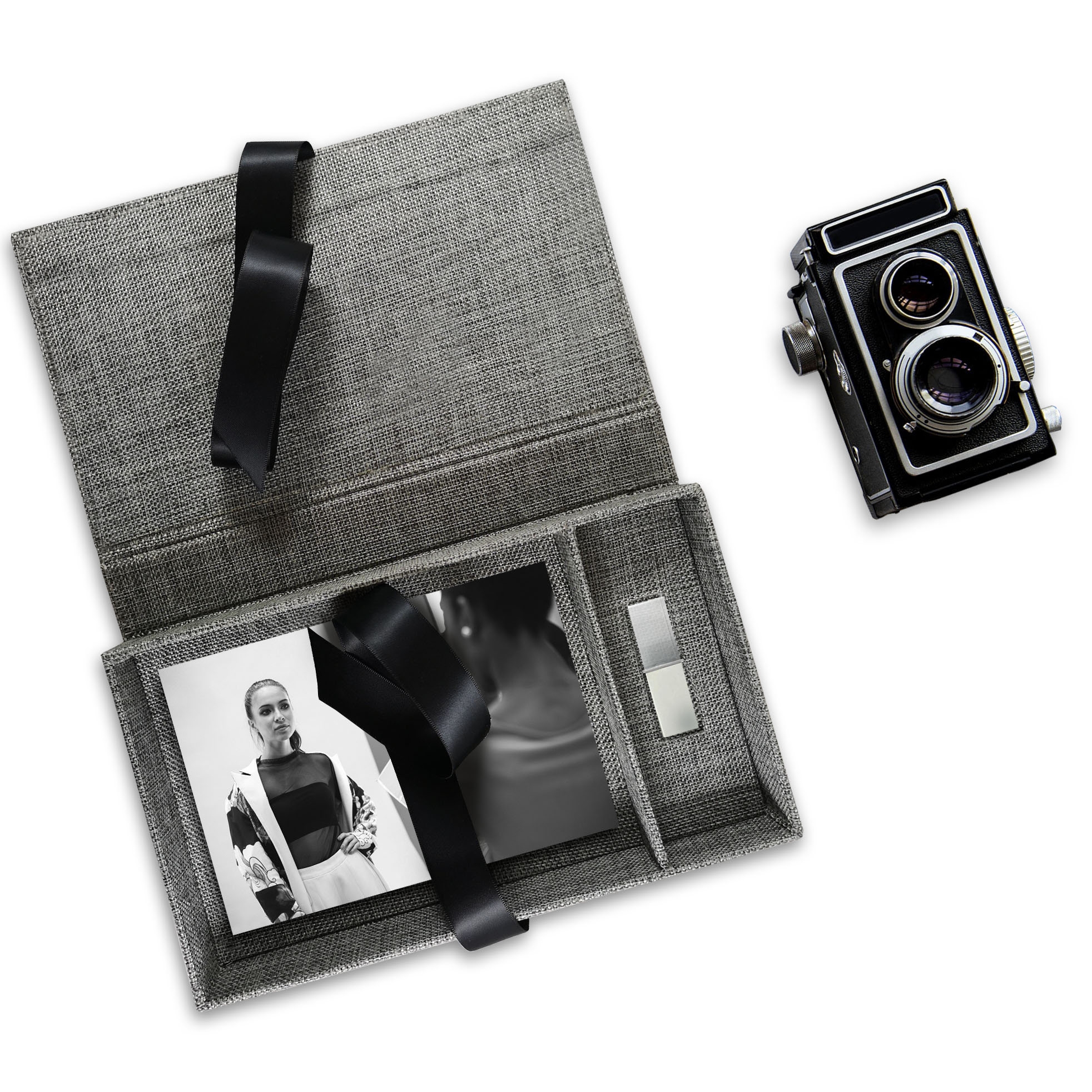 Eco-Friendly
Doubtlessly one of the biggest appeals of these boxes is the eco-friendly material. They are made of recycled cardboard laminated with 100% recycled linen, so there's no guilt over contributing to pollution when purchasing these boxes for clients.
In a time where more and more people are turning toward sustainable options, these boxes provide a highly current choice that doesn't create a negative impact on the world around us. Photographers no longer have to choose between upholding green ideals and offering the best looking product possible.
Supplying photos in a stylish box adds a level of charm to a photographer's business practices. It would be nearly impossible to find USB and Photo Boxes with more style and environmental consciousness than these!