The days of white wedding invitations with silver embossed print are long behind us – unless you are a bride who loves sticking with tradition. Now, wedding invitations come in hundreds of styles, allowing a couple to express their unique union in any number of ways. With so many options it may seem like a job to try and zero in on one, which is why you should first decide which style wedding invitation best suits your personal style.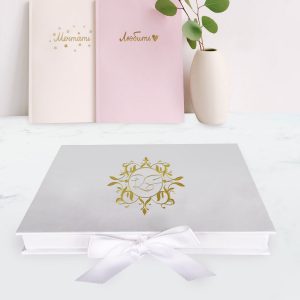 Formal Wedding Invitations – Couples who are having a very traditional wedding will want to set that tone right from the invitation. Formal invitations will name the couple as well as the parents, and are usually printed using letterpress, taking advantage of varying shades of white for effect. To really make a statement about the formality of your affair, you can change up the invitation slightly by handing them delivered in a classy wedding invitation box. A black box with white embellishments will imply that this is a black tie affair without you having to spell it out for your invited guests.
Romantic Wedding Invitations – If you are planning a wedding that is a pure celebration of love, then you may prefer a more romantic approach with your wedding invitations. Romantic wedding invitations can be painted or printed with floral embellishments, using colors that incite the heart like pinks and golds. You can be creative with the wording, playing up how you met, the special qualities of your relationship or even the story of your engagement. If you still like the idea of a wedding invitation box, you could choose white with pink trim to make them less formal looking.
Fun Wedding Invitations – One big advantage to the variety in wedding invitations is that you can have a ton of fun with them. If you are the couple that is always suggesting new and exciting ideas, then let your wedding invitations be a complete step out of the box. Inside of filling that wedding invitation box with paper, put a chocolate bar inside whose wrapper contains the announcement and the details for the big day. Who doesn't love chocolate, and who wouldn't want to be a part of an event that is centered around it?
Chic Wedding Invitations – Chic wedding invitations come in any number of styles and colors that go along with current trends. You will find that may be shaped like flowers or hearts, and use bright modern colors with paired with your graphics. Sleek designs and bold prints are typically used in chic wedding invitations, while the wording is short and to the point. This modern spin on announcing the details for your special day is loved by the modern bride who is looking for simplicity, but still wants to add a touch of her own unique class.
Weddings have changed dramatically over the last few decades, with couples focusing more on their unique characteristics than tradition. Allow yours to reflect that from the very start by choosing wedding invitations that symbolize your vision of what a perfect union is meant to look like.