It is no secret that going green is a growing trend in just about every aspect of our lives, including with wedding invitations. Recycled paper makes a big difference on the planet, making it an ideal choice in wedding stationaryfor the environmentally conscious couple-to-be. Show off your love for each other, and our planet, with one of these unique green wedding invitation ideas.
Make it Personal – Whether it be a wink to the way you met, or a peek into your wedding theme, recycled paper wedding invitations can be made personal for any couple. You can find beautifully crafted invitations that show a city skyline for if you met on a subway, daisies if that was his first gift to you, or even Las Vegas if you've decided that sin city is the perfect place to get hitched. All on 100% recycled paper, yet of such high quality that your guests won't even feel the difference.
The Seeds of Love – A growing trend in wedding invitations is to have the details printed on recycled paper that has embedded plant seeds inside. Once your guests know the who, when and where of your wedding plans, they can discard the invitation in a planter and watch as your love grows. There are design patterns available to suit any style, making it easy to find a seed invitation that fits in with your wedding colors and theme.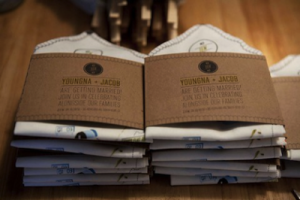 Wedding Invitation Boxes – Instead of a paper envelope that's just going to get tossed, why not have your wedding invitations delivered in a re-usable box? A wedding invitation box can be custom designed to showcase the uniqueness of your wedding plans, with enough room inside to include all of its details. These then double as a gorgeous case to hold your friend's and family's little treasures. Reusable products play a big role in preserving the planet, and a wedding invitation box acts in that role perfectly.
Fabric Invitations – Another way that your invitations can be re-used is with a linen handkerchief. These can be printed with beautiful designs that make them easy to go from giving the details of your wedding to a pocket hankie to wipe away the tears as you say your "I dos". Go all in green by folding them inside of a wedding invitation box, and your guests will have two ways to always remember your day.
Wedding Invitations
To make the most out of your green wedding invitations planet saving powers, cut down on all of the inserts. Consolidate what they need to know on one or two cards, or if that's not feasible, use one card (or hankie) that announces the wedding and directs the guests to a website where all the details are laid out. You can even have them RSVP on the site, saving even more paper.
Even though this is your once in a lifetime event, you can still make a difference by giving your invitations some green thought. With the right materials, and a sustainable way to deliver them, the only footprint your wedding will leave behind is with your joyous memories.