Looking for an edge in the competitive world of shopping? Then it's time to consider how using OEM shopping bags in the presentation or the transport of your product.
Original equipment manufacturer OEM shopping bags are the bags we make make for you to use in your end product.
Canvas, cotton and hemp have been industry favorites for quite some time. The natural fabric appeals to eco-conscious and savvy consumers, and the fabrics wont harm your product.
In fact, cotton-canvas drawstring bags are a preferred way to present products of impeccable quality and taste. Consumers love knowing that their purchase was special enough to merit more than plastic bag protection as it comes from you warehouse.
These cotton-canvas bags have been used in a variety of ways, including promotional events and give-aways, but they have a life far beyond that. That's because our bags have been handmade in Thailand, using the highest quality fabric for the bag and cotton cording for the closure. They are even washable.
When you're ready to design your OEM shopping bag, you get to determine the size or sizes you need. Do you want your logo from and center on the bag? No problem. Dennis Wisser uses non-toxic applications from rubber trees to apply your design to the bag. Your color, your logo, your look, all at an affordable price.
Imagine your product being shipped in its own OEM shopping bag that has your label, your logo, your brand on it. Whether you are shipping clothing, shoes, or even luxury leather folios and briefcases, the customized bag will make your product stand out far ahead of the competition.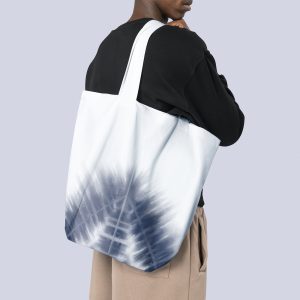 Best of all, consumers often save the bags, either using them to store the product when not it use or repurposing it in other ways. These bags are so practical that some of your customers will look forward to getting the bag as much as they look forward to the product they purchased from you.
Of course, there are other styles available too, especially if your product will be used for transport. Consider one of the many tote styles available, such as a modern tote made from organic cotton canvas or something simpler with shoulder handles.
You can still brand the bags with your logo or message. For that added bit of elegance and pizzazz, consider adding an embellishment like a corporate tag or designer charm to the bag.
You can deliver your product with style, especially if you know where to get the right bags. With Dennis Wisser as your shopping bag source, your OEM shopping bags are going to sack the competition.